The role of the Research Subject Advocate (RSA) is to ensure a safe and ethical conduct of human subject research within the MSM Research Community and that research is conducted under FDA GCP and ICH Guidelines to decrease risks associated with conducting studies. The RSA is a position mandated by the National Center for Research Resources under the NIH in 2001.
The following best practices serve to define the mission, scope, and model for research advocacy within the MSM and CTSA consortium:
The research subject advocacy functions should include a reporting pathway to institutional officials of appropriate authority and should be free of conflict of interest.

The research subject advocacy functions should be complementary to and integrative with existing entities at the institution to promote and facilitate safe and ethical conduct of human research.

The research subject advocacy functions should have, or have direct access to, an authority that can temporarily suspend a research activity based on ethical and safety concerns so that problems can be explored or resolved through proper procedures. This capacity enables preliminary intervention into problems that might not necessarily invoke an institutional review board (IRB) suspension.

The research subject advocacy functions should be a resource to the research community and to participants; have a voice in policy regarding research ethics, participants' rights, and research safety; and play a role in the protection of human subjects and responsible conduct of research educational programs of the institution.
The RSA works closely with MSM research investigators, however, an appropriate level of independence is maintained in order to properly monitor and ensure the safety of research participants. RSAs also provide or coordinate training and education for research participants and all MSM Research staff- investigators and co-investigators, study coordinators, and other research staff members.
Research subject advocacy includes:
Ensuring participants have a full understanding of what is clinical research, the risks involved, and their rights as volunteers.

Protecting participant rights before, during and after their participation in research studies

Serving as an unbiased witness during the consent/assent process

Acting as intermediary to assist in the clarification of misunderstandings between participants and the investigator or members of the research team

Addressing safety and human subject issues at preliminary roundtable meeting

Conducting random informed consent audits, regulatory binder audits and case report form audits within the MSM Research Community.

Providing an avenue for reporting adverse/serious adverse events in studies that are unexpected and related to participation in research. These events should be reported to the MSM Research Subject Advocate (RSA) and to the MSM Institutional Review Board.
Research Training:
The RSA coordinates the annual required training for members of clinical research teams at MSM.
There are a variety of subjects including training directly related to nurses, research coordinators/managers, etc.
Please sign into our training site to complete training. If you do not currently have an account, please send an email to
to get started. The link to the site is below.
https://msm.techsmithrelay.com/myprofile
Study Audits:
The RSA chairs the Committee for Quality Assurance and in conjunction with the Human Research Protection Program, the quality assurance team has created auditing forms in RedCap to monitor research at MSM. A schedule has been developed to assure the monitoring process.
If you are a designated study monitor and have been given access to the study audit forms, please click on the link below to get started. If you have any problems, please contact me at
or
.
Management of Subject Complaints
The RSA works with the research team to resolve research subject complaints. Managing and resolving complaints may include the steps outlined in the two figures below. It is preferable that a resolution is reached within the CRC, but in some cases the IRB and other entities at MSM will need to be involved.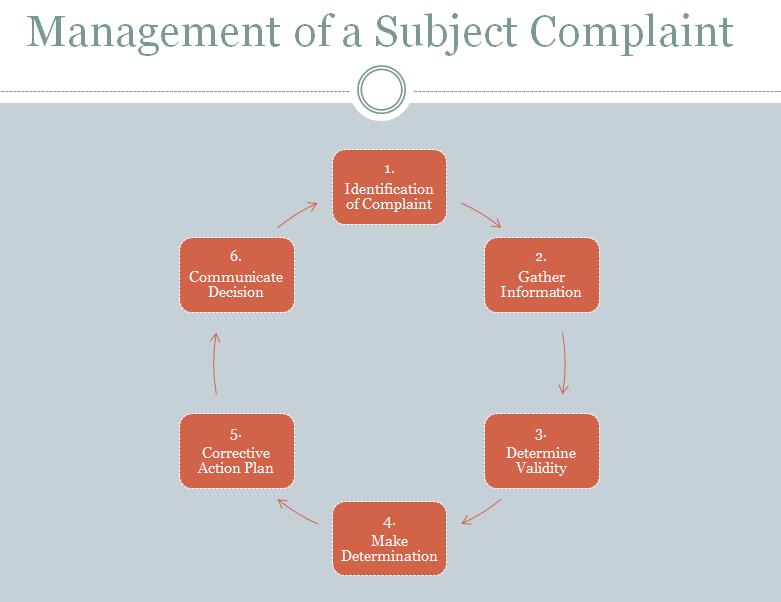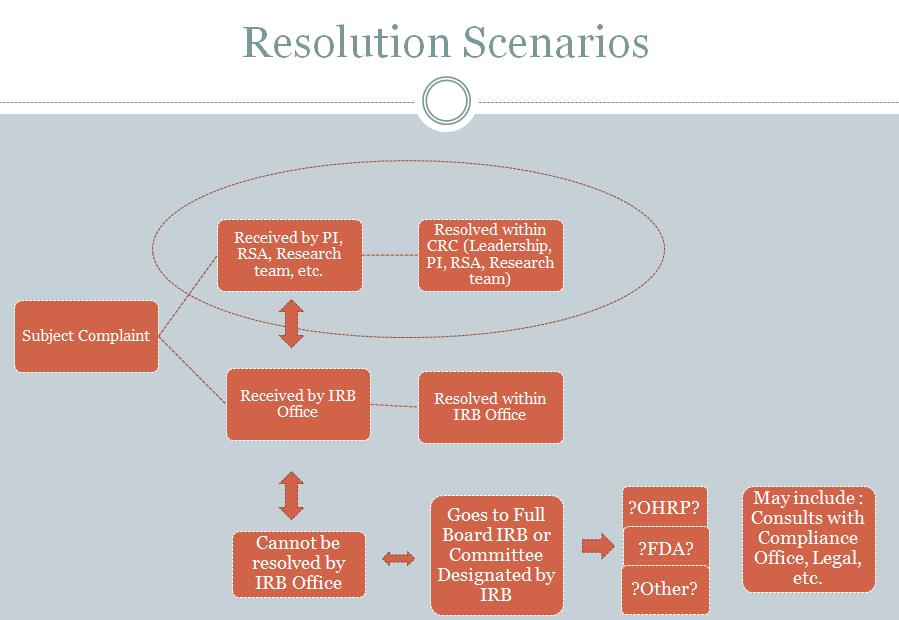 ---
Data Safety & Monitoring Committee (DSMC)
Since human subjects' protection is of the utmost importance at the Morehouse School of Medicine, the MSM CRC will assist with data safety and monitoring upon the request of the investigator. When completing your application to the CRC include in your request the need for a data safety & monitoring committee to review and monitor your research study.
Forms and other information for creating a Data and Safety Monitoring Plan are found on the link below.
Click here for Data and Safety Monitoring Plan (DSMP)
Reporting Adverse Events
Please review the presentation on Unanticipated Problems/Adverse Events at the link below.
https://msm.techsmithrelay.com/HM5a
(If link does not work copy and paste into browser)
Please click on this link below to report Adverse Events to the CRC/RSA.
Click here for Adverse Event Reporting Form
Use irb.net to report adverse events to the IRB.
Jacquelyn L. Ali, MSA, CQI
Research Subject Advocate
Phone: (404) 752-1140
Email: