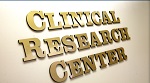 The Process for New Application Submission
The CRC Clinical Resources Application is a compliance tool requesting the use of the center, its resources and the cores of the R-CENTER and Clinical Research Network (CRN).
A completed application must be submitted via the R-CENTER web portal to the Clinical Research Center (CRC) for approval by Scientific Advisory Council (SAC) and the CRC Medical Director prior to initiation of any clinical trial/protocol in the CRC.
The application for project initiation is located on the R-CENTER Web portal, under the "Home" tab. Select "CRC Clinical Resources Application" or to submit a Clinical Resources Application click here.

The CRC Protocol Implementation Team meetings are held twice per month and applications will be screened at that time. A follow-up roundtable discussion will be scheduled within 7-10 business days.
New studies that are initiated by the Principal Investigator will follow the process as outlined here.
New studies that are Industry- Funded with follow the process outlined here: Procedure for Industry-Funded Clinical Trials
All scheduling of participant days must be done with the CIN Schedule Administrator. For more details and forms go to Clinical Research - Assist (CRAssist).