---
Community at Morehouse School of Medicine
Clinical Research Center (CRC) provides the infrastructure necessary for our institution's faculty to conduct clinical research.

Founded in 1996, the Clinical Research Center (CRC) provides the infrastructure necessary for our institution's faculty to conduct clinical research. Funded by an NIH grant, the Dean of the institution serves as its principal investigator and the CRC Advisory Committee provides support to the CRC Program Director, Elizabeth Ofili, M.D.

The CRC is the first free-standing, outpatient research facility of its kind in the nation to receive accreditation by the Joint Commission on Accreditation of Health Care Organizations.

---

Clinical Trials at Morehouse School of Medicine




Community Engagement




Morehouse School of Medicine (MSM) is a leader in community engagement, making positive change through research, community service, and educational outreach.

MSM has received national recognition for its community engagement efforts, including:

The 1999 AAMC Community Service Award

The first Community-Campus Partnerships for Health Award in 2002

The 2005 Outstanding Educational Program Award from the Association of Teachers of Preventive Medicine

The Prevention Research Centers Best Practice in Community-Based Participatory Research Award from the




Centers for Disease Control and Prevention in 2011
---
MSM Research Mobile Unit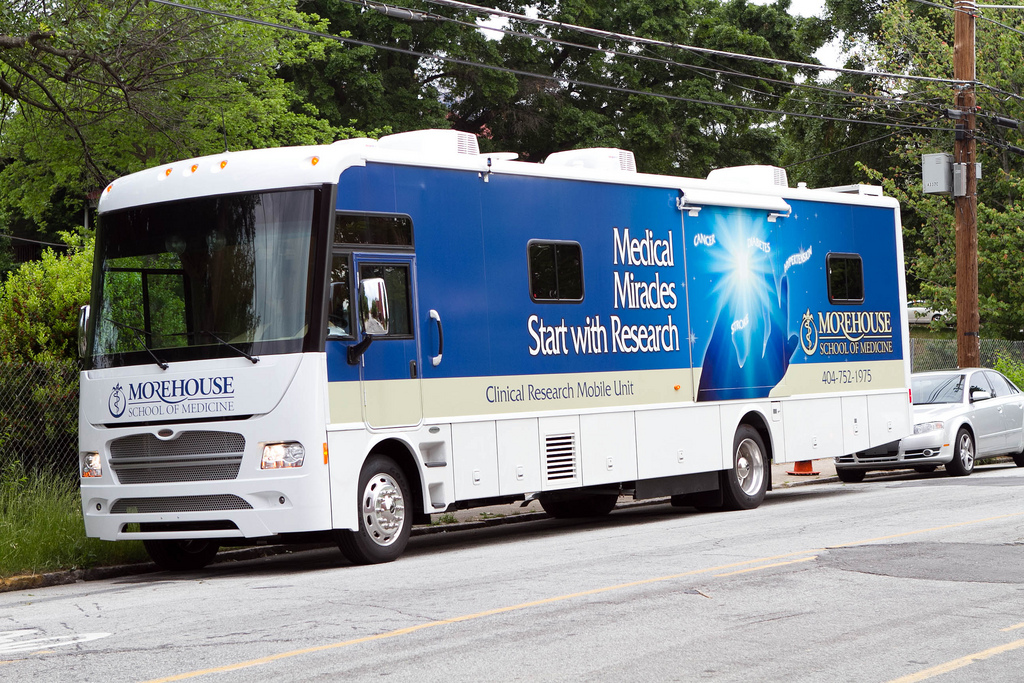 The Morehouse School of Medicine mobile research vehicle is a 30 ft. self-contained, handicap accessible, mobile research facility that can be used to conduct clinical research.
The vehicle makes it easier for MSM Investigators to include community members in research and reach more diverse populations.
It contains two exam rooms, a laboratory, private areas for patient interviews, restroom, and audio/visual technology for patient education. Onboard equipment includes cardiac monitor, refrigerator and freezer, portable ultrasound, scale and computers with Internet access.
Click here for the " Clinical Research Mobile Unit Request Form"
Contact: Pam Cooper at (404)752-1975