CPN is an academic community partnership between Morehouse School of Medicine (MSM) and affiliated physicians in the community whose practice includes at least 30% minority patients. Membership is open to physicians of all specialties.
Goal: Bi-Directional Practice Based Solutions to Eliminating Healthcare Disparities
CPN Tools:
Disease-specific registries for quality improvement in hypertension and diabetes

Deliver Targeted Educational Workshops and Expert Roundtables

Facilitate Adoption and Implementation of Personal Health Records.

Encourage small and medium size practices in adoption of Electronic Medical Record ( EMR)

Assist physicians qualify for the Diabetes Physician Recognition Program (DPRP).

Clinical Trials Training and Certification of physicians

Participate in Research Workshops organized by Community Engagement and Research Program (CERP). The Community Engagement and Research Program is a component of the Atlanta Clinical Translational Science Institute (ACTSI), a consortium of Emory University, Morehouse School of Medicine, and Georgia Tech.

Health 360x is an innovative intervention designed to use accessible health information technologies to support diabetes self-management efforts among a population of primarily African American adults with diabetes who receive care at local private, community/primary care clinics.

Access the MSM Health 360x site

Click here

.
Frequently Asked Questions (FAQs):
Membership Responsibilities:
Participate in Quality Improvement (QI) Initiatives

Participate in Continuing Medical Education Activities

Participate in MSM sponsored clinical research
Benefits of Membership:
Membership benefit of Georgia State Medical Association(GSMA) and Atlanta Medical Association(AMA)

Membership benefit of the MSM National Alumni Network

Continued Medical Education (CME)

Training and participation in clinical trials

Patient centered health and wellness initiatives

Support Adoption of Electronic Health Records

Quality reporting for improved reimbursement
MSM Faculty and Staff:
Elizabeth Ofili, MD, MPH; Director and PI

Priscilla Igho-Pemu, MD, MS; PI: Hypertension Registry

Alexander Quarshie, MBBS, MS; Director, Biomedical Informatics

Robert Mayberry, PhD, MPH; Associate Director, Clinical Research and Community Engagement

Priscilla Johnson, MSN; Assistant Director, Clinical and Administrative Affairs

Joann Cross, RN; Senior Coordinator, Heart Failure Network

Folake Ojutalayo, MBBS; Research Coordinator

Debra Teague, Program Manager
Advisory Board:
Paul Douglass, MD; FACC; (Co-Chair)

M. J. Collier, Jr., MD, FAAFP; (Co-Chair)

W. Steen James, MD, FAA; (Co-Chair)

Titus Duncan, MD

Winston H. Gandy, Jr. MD

Warren Hutchinson, MD

Lonnie Jenkins, MD

Arlene Lewis, MD

Kenneth Barnwell, MD
CPN Accomplishments:
150 CPN practices and over 300,000 patient visits in metro Atlanta, Macon and Columbus participate in cardiovascular and diabetes quality improvement

Over 3000 patients in CPN Hypertension Registry for Quality Improvement

CPN doctors are certified in diabetes care

22 CPN practices with EMR or actively considering EMR and data repository

100 patients from CPN practices received tools for self-care/prevention through the Hearts of Humanity Program

120 CPN physicians and clinical coordinators trained in GCP clinical trials Awards

Medtronic Foundation; National Center for Minority Health and Health Disparities; Proclamation State of GA for Georgia Diabetes and Obesity Initiative; Exemplary Leadership Award (CHT)
---
CPN – How Can I Join, and What Do I need to Do?
MSM Alumni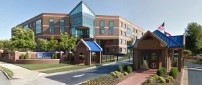 Hospital Partners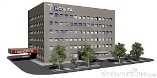 *CPN Eligibility: You are MSM alumnus; your practice has at least 30% patients from underserved groups -African Americans, Hispanic Americans other minority./economically disadvantaged patients; you are a member of GSMA/AMA
*HIPPA Business Associate Agreement
*CPN Demographic Sheet
---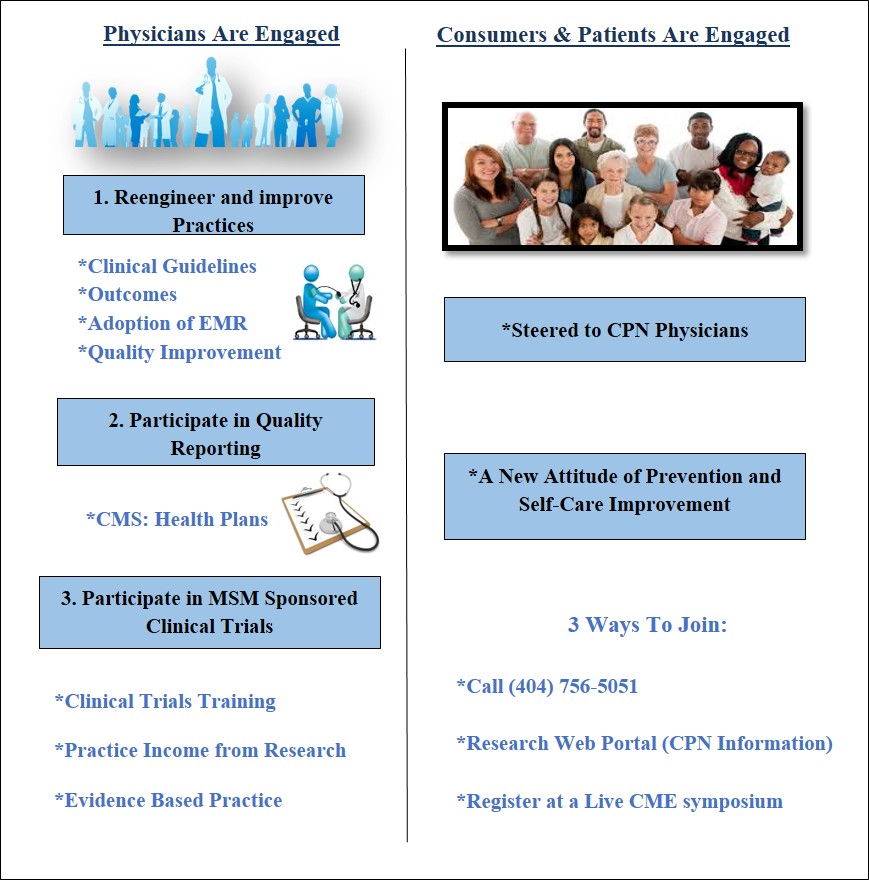 *Click Here To Complete CPN Registration